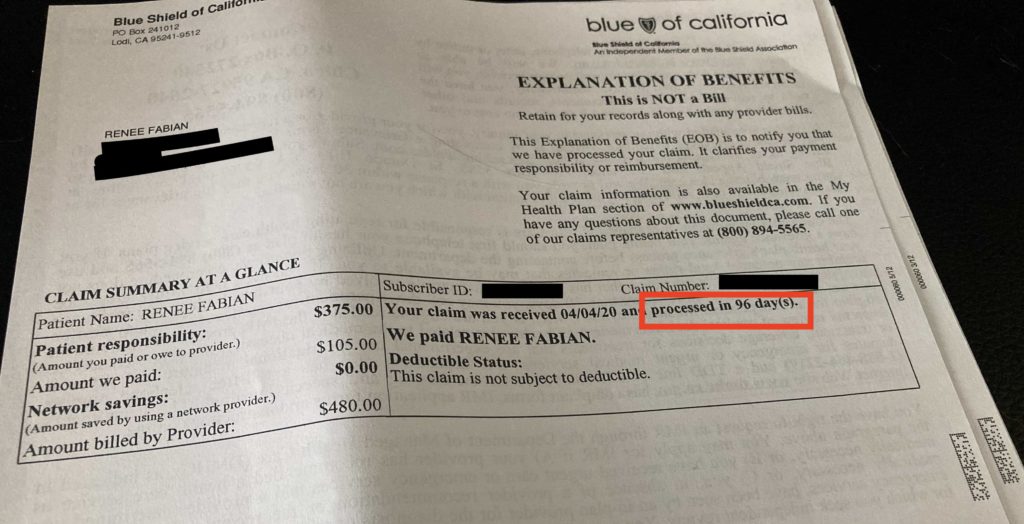 This won't be news to most of you: Therapy is expensive and your insurance company probably isn't much help. It shouldn't be like this.
With the support of a USC Center for Health Journalism fellowship, I am investigating why it's difficult for patients to use and therapists to accept health insurance for therapy in California. I chose this topic because it's personal and because I know how important it is to all of us. This is my story, my why, and I want to hear yours too.
My Experience With Insurance
After years of being burned, I didn't even bother with my insurance company to find a new therapist with the expertise I needed. My individual and group therapists don't accept insurance, so I pay their full fee every session and file for payment with my insurance company later.
I have a private PPO health insurance plan, which allows me to use an out-of-network therapist and get reimbursement for some of my costs. This is an enormous privilege and I still have trouble getting my insurance company to pay for my mental health care.
Typically, it takes three weeks for Blue Shield of California, my insurance company, to process my out-of-network claims. I noticed a few of my claims for therapy, one dating back to December 2019, hadn't been processed. Blue Shield only pays a small percentage of what therapy really costs, but still owed me almost $1,500.
After months of waiting for my claims to be processed and show up in my profile online, I called Blue Shield's customer service department to find out what happened. I talked to Andrea, who said she didn't see the claim I filed twice anywhere in the system. She said there was a delay in processing claims because of COVID-19.
I emailed Andrea a copy of the bill from December, which she told me she scanned into the system for processing. Two weeks later, the claim was still missing from my online portal. Then I decided to write this article, because I'm not the only one having issues getting my mental health care covered by insurance.

The Response
In an email, I asked Blue Shield of California to clarify its claims process and why I (and so many others) had issues. Blue Shield's spokesperson, however, sidestepped. The spokesperson said they were going to work on answering my questions while sending my claim issues to an Executive Inquires team.
The Executive Inquires team responded and said they built two new profiles for my out-of-network therapists and processed my claims. (One of these therapists was already in the system.) One of my claims had been outstanding for 96 days before this Executive Inquires team magically processed it in 48 hours flat.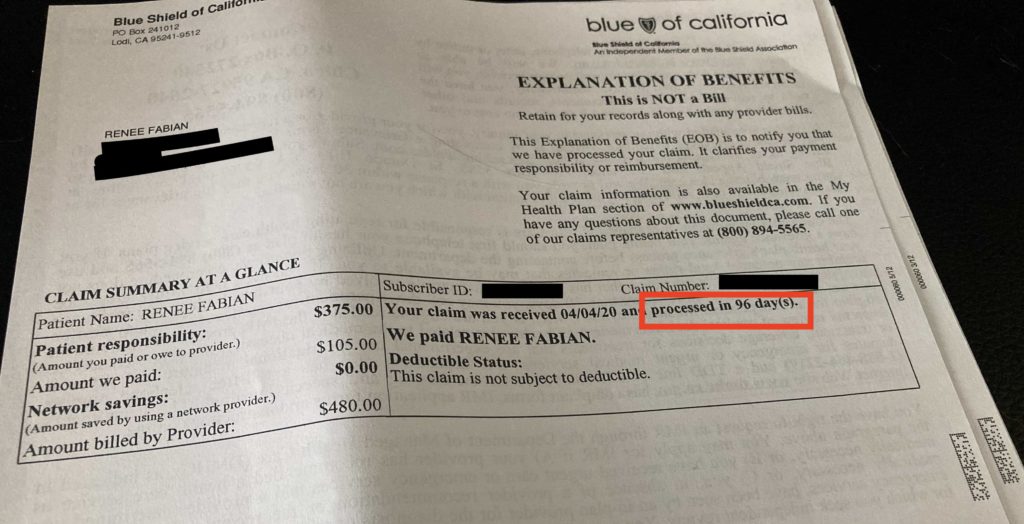 A Blue Shield spokesperson provided the following comment:
At Blue Shield of California, our members' health and wellbeing are our top priority, and that includes helping to ensure our member experience is seamless, fair and timely. On very few occasions our claims reimbursement process can take longer, such as when our members receive care from providers who are not part of our network. If they have questions regarding billing and reimbursement, we encourage our members to reach out to us immediately so we can resolve the inquiry as quickly as possible.
While it's nice my insurance company paid me what I was owed eventually, it took work and a basic understanding of the system to even know how to start. I can also afford to pay out of pocket and wait for insurance to pay me back. But this isn't the reality for so many people. What happens when you don't have the time or resources to repeatedly chase after your insurance company?
Tackling Insurance for Mental Health
Health insurance companies are notoriously opaque with their operations. In a 2016 California Healthline article, one advocate highlighted that Blue Shield of California is among the most difficult.
"Blue Shield is a black hole when it comes to where the money is going," Jamie Court, president of Consumer Watchdog, told California Healthline. "They are the least transparent health insurance company in America."
The company, which earns $20.6 billion yearly across its 4.38 million members, lost its tax exempt status with the state of California in 2014. Following an audit by the California Franchise Tax Board, Blue Shield of California's exemption was revoked as it faced criticism for billions in reserves, high salaries for its executives and rate hikes for its members.
Other companies aren't far behind. According to the California Health Care Foundation, health insurance is big business in California — to the tune of $183.7 billion in 2017. All but one of the largest private health insurance companies in California were profitable that year.
How You Can Help
Blue Shield's Executive Inquires team called my claims issue an "isolated incident." I'm not so sure. Insurance companies put up so many barriers to access mental health treatment, it starts to feel intentional. When you're struggling with your mental health, it can be too many hoops to jump through — and lead to not getting any help at all.
Mental health parity is more than just making sure insurance pays equally for physical and mental health. We all have a right to accessible, affordable mental health care. I want my fellowship project to be one step toward making that happen. And that's where you come in.
I want to hear your stories about using insurance for mental health care too. Patients and therapists: Help me report this story! You can share your experiences by taking a 10-minute survey here or send me an email: [email protected].
Renée Fabian wrote this story while participating in the USC Center for Health Journalism's 2020 California Fellowship.
source
https://www.programage.com/news/My_Insurance_Company_Owed_Me_Almost_$1_500_for_Out-of-Pocket_Therapy._Why_Wouldn_t_It_Pay__1595293215839103.html