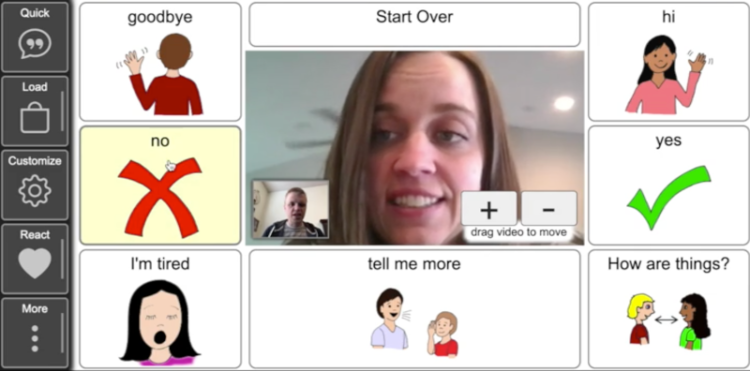 When COVID-19 hit, my friend Bill Binko sent me an article about a woman on a breathing tube in the ICU. They were kicking out all visitors (including her husband) to help protect everyone. Her heart rate immediately spiked, her breathing got worse, etc. because she was going to be cut off from her loved ones. That hit me hard because my daughter has been in the ICU on a breathing tube multiple times, and it was rough picturing her going through that alone.
Bill and I are both technologists, so we started brainstorming ideas for what to do. Speech therapists in the hospital use a clear plastic board as a physical form of AAC to help non-verbal folks make choices. They tape options to the edges and peer through a hole in the middle, then watch the patient's eyes to see which choice they're looking at.
We said, why not take that idea and put it in a video calling app instead? It could work for ventilated patients, but also for remote learning, teletherapy, and families who can't meet face-to-face right now. The person on the other end of the call can watch for eye movement in the video feed, or if the patient or student can use their hands, they can hit the buttons themselves, so the individual can participate in the call without needing to say a thing. The idea for Co-VidSpeak was born.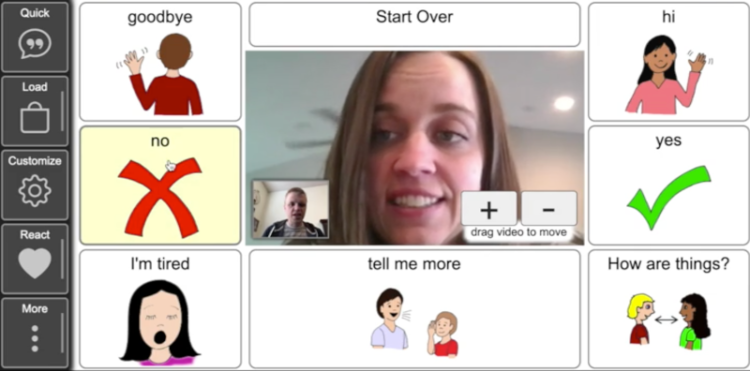 I went to work right away and built Co-VidSpeak (short for CO-operative VIDeo SPEAKing), an open-source, one-on-one video calling and remote communication app. We've been piloting it in hospitals and virtual classrooms since May, and patients and students have preferred it over other options, because it lets them participate in the virtual conversation, instead of just watching things happen around them. One teacher said, "Engagement seems to have increased by attention to the screen, time on task, and alerting to the speaker, the react buttons are a huge hit, and some of our students are vocalizing more, which is awesome!"
Co-VidSpeak works in modern browsers, so it runs on a computer, tablet or mobile phone. There are templates for basic questions, making choices, talking to a doctor, reading a book together, pain scale, etc. and people can also easily create their own layouts to use temporarily or save for long-term. The code is open source and anybody can run it themselves, but we also offer a subscription option for people who need it. Families and disability programs often have funding issues, and we don't want to make that worse even though we need to cover costs, so accounts are only billed for months where they use more than 30 minutes of call time. That way nobody has to unsubscribe/re-subscribe around summer break or anything.
We are also looking at grant funding to make it free for specific populations. For example, right now it's free for anybody using it to communicate with a loved one on a breathing tube due to COVID-19. We are on the lookout for additional sponsors as well. As Bill said recently, "All of us who are involved in developing Co-VidSpeak have had loved ones intubated and unable to communicate. We couldn't let that become commonplace if we had the ability to help. I'm so proud of what we've been able to do and am happy we can continue to share it free while we face this challenge."
We hope Co-VidSpeak can make a real difference in the lives of patients, students, isolated seniors, and others who have trouble speaking and are feeling cut off in a world forced to move so heavily to a remote communication environment. It's nice when we can find a reason to say, "take that, COVID!" Anyone can try a free demo or sign up for a paid account by visiting https://www.covidspeak.org.
source
https://www.programage.com/news/Creating_an_App_to_Help_People_Communicate_While_on_Ventilators_Due_to_COVID-19_1599548417395366.html