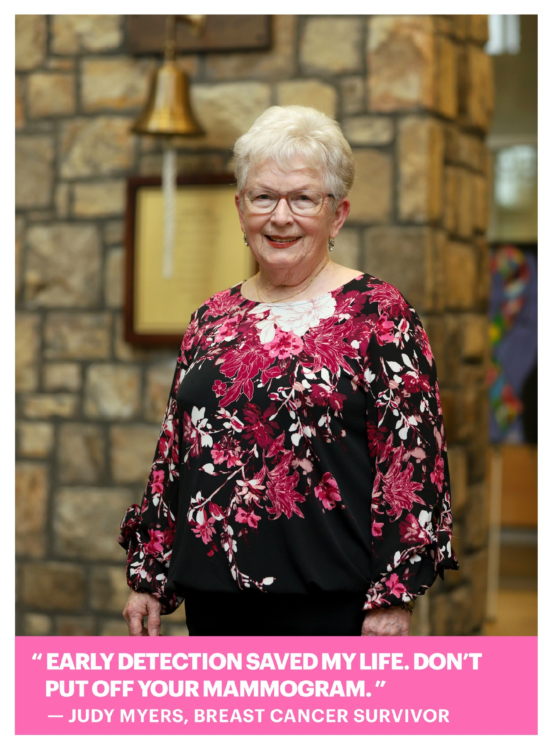 Dr. Angela Dumbuya DNP, an Advanced Oncology Certified Nurse Practitioner, has been working with cancer patients for 15 years. In that time, she has seen changes in the way cancer is treated. Chemotherapy is still the most commonly used treatment, but there's been a move towards immunotherapy, a therapy that helps the immune system fight cancer, and targeted therapy, which uses drugs to target specific genes and proteins that aid in the growth of cancer cells. More clinical trials are carried out for vaccines, and doctors have more access to diagnostic tools. The medical side has certainly seen a positive shift.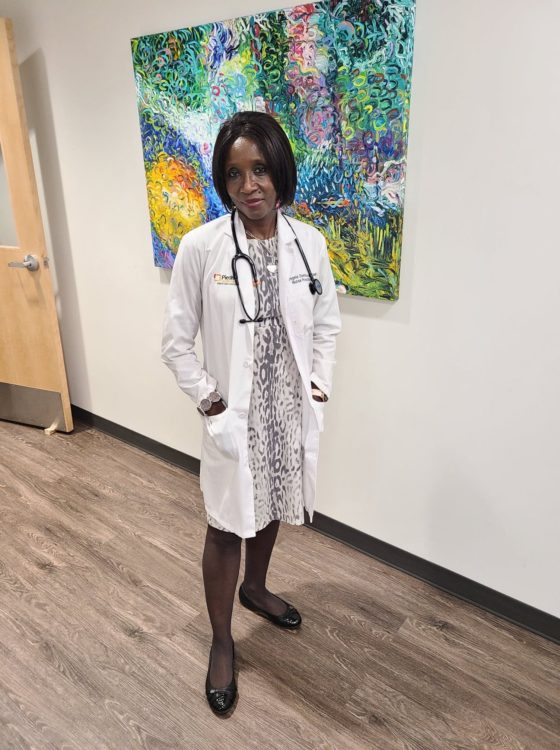 Dr. Dumbuya graduated with her Doctor of Nursing Practice from the University of Alabama at Birmingham in 2012.

However, cancer reaches beyond the diagnosis and treatment. From the financial burden of paying for treatment to late effects that arise after recovery to carrying out activities of daily living, many patients, and their families, cope with the lasting effects cancer leaves on their lives. These concerns gave rise to the cancer survivorship movement. Started by the National Coalition for Cancer Survivorship (NCCS), survivorship begins "from the moment of diagnosis" and lasts "for the remainder of life" (from "The Nurses Guide to Cancer Survivorship," by Kathy LaTour, 2014 by CURE Media Group).
In 2014, the cancer survivorship program at the John B. Amos Cancer Center (JBACC) in Columbus, GA was created by Dr. Dumbuya, who is also the center's only oncology nurse practitioner. Her program targets patients with curable cancers and addresses their medical, psychological, social, nutritional and health maintenance needs.
"There was a time when nobody knew what to do with cancer patients," Dr. Dumbuya says. "We just left them with all of the side effects. So, the survivorship program was really started to make sure that we follow patients effectively after cancer treatment. They know who to follow, they're not lost in transition, and there is somebody who assumes responsibility after treatment to follow them. To make sure they're doing all their tests, make sure they're doing all their cancer screenings."
The History of the Survivorship Movement

The NCCS was founded in 1986 when leaders from the cancer community met in Albuquerque, NM. They wanted to recognize that patients dealt with physical, emotional and psychosocial issues related to cancer, issues that were not being addressed in the cancer community. Cancer was a powerful illness that could wield a mighty grip on multiple aspects of survivors' lives long after treatment has ended.
Dr. Fitzhugh Mullan, a co-founder of the NCCS, made this point in his seminal essay on cancer survivorship: "It is as if we have invented sophisticated techniques to save people from drowning, but once they have been pulled from the water, we leave them on the dock to cough and splutter on their own in the belief that we have done all that we can."
Advancements in medicine and technology were not enough — doctors had to keep up with their patients beyond the initial treatment to ensure they remained healthy, secure and avoided recurrence of their cancer or development of a new one.
In 2004, the Center for Disease Control and the Livestrong Foundation contributed to the dialogue by publishing "A National Action Plan for Cancer Survivorship: Advancing Public Health Strategies." They expanded the definition of survivorship to mean living "with, through and beyond cancer" and extended the definition of survivor to include families, friends and caregivers of the cancer survivor. The plan recognized that people related to the survivor, in living with, caring for and having a relationship with them, were also affected by the diagnosis, financially, emotionally and so on.
Survivorship programs and the survivorship care plan (SCP) are the culmination of the ideas and needs expressed by doctors, patients and survivors. Programs vary by center, and the plan typically provides a treatment summary and a follow-up plan for the survivor. Livestrong outlined three tiers of essential survivorship care practices in its 2011 publication, "The Essential Elements of Survivorship Care: A Livestrong Brief."
Tier 1, which providers must meet, includes having an SCP, screening for new cancers and recurring ones, and having a care coordination strategy involving all the survivor's doctors.
Tier 2, which providers are strongly encouraged to have, includes psychosocial assessments and care, family and caregiver support, and nutrition services, physical activity services and weight management.
Tier 3, which providers should strive to have, includes continuing medical education and counseling for practical issues.
Survivorship in Practice

Dr. Dumbuya follows many of Livestrong's recommendations in her program at JBACC. After her patients finish treatment, she schedules them for a 45-minute educational class on their next steps.
"I tell them, 'This is your cancer diagnosis. This is what we treated you with, and based on how we treated you, these are the potential adverse effects. We just want to make sure that you know those things in case something happens. Those adverse effects may never happen, but just in case they happen. These are the reasons why they happen, and this is what you could do about it.'"
She gives them a booklet of information, and they are instructed to follow up with their oncologist, their primary care provider or herself, depending on the needs of the survivor. This is where care coordination is important — other providers must be dialed in to ensure the survivor's specific needs are met.
"Somebody follows them up with all the tests they're supposed to do. Mammogram, imagery, blood tests, things like that. And then we make sure they do all other cancer screenings. You have to do your PSA (prostate-specific antigen), your colonoscopy, your mammogram, your skin exam, all those things. So, it's a recommendation requirement that has to be fulfilled."
The Commission on Cancer (COC) recommends that 50% of survivors are given SCPs. In 2019, JBACC gave SCP's to 81%.
"We're the only one in a Piedmont institution that was able to do that," she states, "so I'm very excited about that and very proud of our efforts, my effort."
*JBACC is part of Piedmont Columbus Regional, which is part of the Piedmont community health system of Georgia.

Two of Dr. Dumbuya's patients, Vanessa Roberts, 60, who had invasive ductal carcinoma in her left breast, and Judy Myers, 74, who had breast cancer, have benefited from her care and her program. Dr. Dumbuya's husband, Peter Dumbuya, 65, who had prostate cancer, also leaned on his wife during and after treatment.
Vanessa had a good outlook. "My doctor said that my prognosis was very, very good," she says. Her left breast was removed, and she went through numerous rounds of chemotherapy and radiation.
Peter's outlook was similar. "Both doctors, here in Columbus as well as at Emory St. Joseph's, said I had a very good chance of recovering, and the chance of recurrence was very rare because it was localized in the prostate."
Judy's cancer was more aggressive. She considered hospice at first but agreed to go through with treatment. "With treatment, I had a chance at living many more years. Without treatment, I had six months, possibly, to live."
"It's important that you document everything you went through."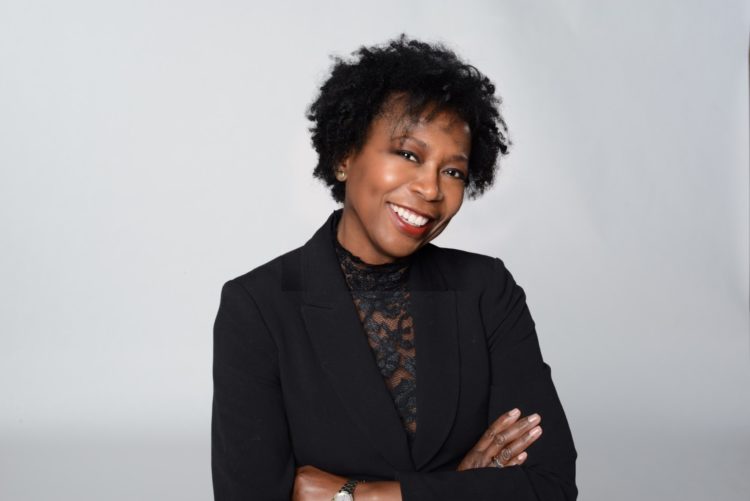 Vanessa, who recently retired from her job at a credit card processing company, is looking forward to continuing her acting career.

Vanessa continues to see her oncologist once a year. She deals with "chemo brain," a side effect of treatment that impacts a person's memory and thinking, and had to reteach herself how to focus to read. "I'm always looking to make sure that brain function is not impaired," she states, and with COVID-19 continuing to spread, she is extra vigilant. She also has thalassemia, a condition that causes anemia, fatigue and weakness. Her previous chemotherapy and radiation treatments also contribute to the fatigue that she deals with day-to-day.
Though Vanessa found support with Dr. Dumbuya, she largely takes charge of her own survivorship. "I was already on a pathway about diet and exercise and mental health," she says. She attended yoga classes at the Art of Yoga in Columbus. Vanessa also believes the most important thing a survivor can have is a relationship with their providers. "You need to make sure that you feel like you're getting the best treatment that you can possibly get."
Vanessa also relies on a great group of friends for support. "I could call them in the middle of the night and talk through and work out things with them." She pays it forward by talking with other survivors in a support group as well as spreading awareness for breast cancer.
Vanessa is looking forward to continuing acting. She has acted in the Springer Opera House but primarily focuses on film and television. She's eager to see how her daughter's life progresses and is writing a book called "The People That I Love" about the people that have affected her life. "I think it's good to go ahead and tell my story about the things that have helped and motivated me."
"My wife Angela was my main source of support."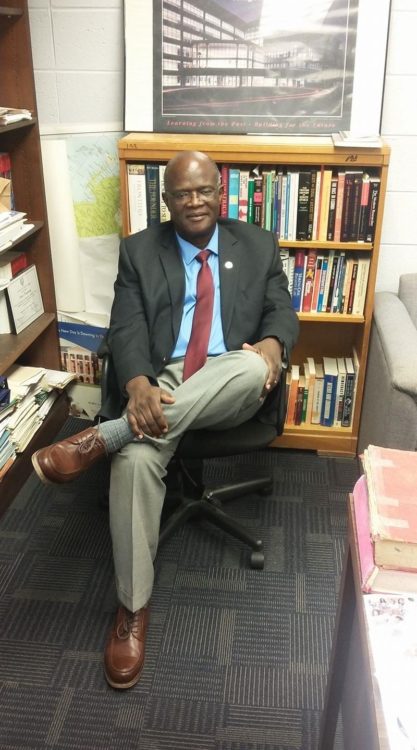 Peter is a history professor at Fort Valley State University and practices law in the field of criminal defense.

Peter is relatively healthy given his prognosis. He never experienced any symptoms or showed any signs of having prostate cancer. "It came as a shock because that was the last thing on my mind," he says. After treatment, he dealt with lower back pain, which he still deals with, but states he can cope with it.
He visits his physician once a year to monitor his PSA. He does not have an SCP (Peter was not treated at JBACC), but as Dr. Dumbuya's husband, he can access her wealth of knowledge on cancer and survivorship anytime. Dr. Dumbuya stayed with Peter in the hospital for two weeks, caring for him and advocating for his needs as he dealt with unexpected side effects of treatment.
Despite his positive outlook, Peter still has concerns. "It's a major disease so it's always on your mind, especially the rate of recurrence that I read about. I read medical journals or articles, if they can find a way to slow down the rate of cancer diagnosis or infection in this country, as well as in many. It seems to me there's an increase, an uptick in cancer diagnoses." Peter stays healthy and avoids certain food and drinks, but it is very possible for survivors to develop a new cancer.
Peter was mostly glad to return to normal as a survivor. He likes caring for his and Dr. Dumbuya's house and his garden. "I still do my research, I still do my writing. Those have not been impeded. I teach, thank goodness, thank god for that. I still drive. I can pretty much do most of the things to maintain the livelihood that I used to do before the diagnosis and the treatment."
"You're a new person because every cell in your body is rebuilt."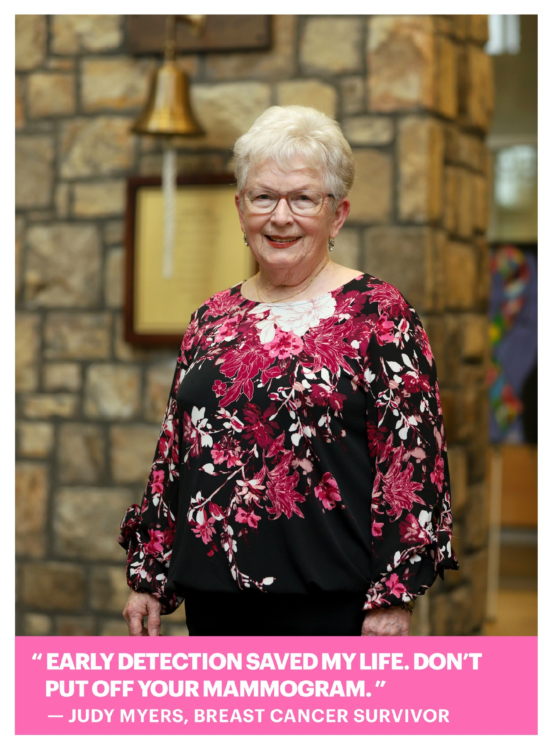 Judy is retired from her job at Synovus and is heavily involved in JBACC's survivorship program and her church.

Judy's breast cancer was at stage 2 when she was diagnosed. She went through 33 rounds of radiation and 52 weeks of chemotherapy. Like Vanessa and Peter, fatigue is her main side effect, and she also deals with chemo brain. "It starts hitting me about 11:30 every day, and from then I lay down and take a nap for about an hour," she states. "So, my chemo brain kicks in and I know what I want to say, and I can't say it. And no telling what might come out of my mouth when I'm talking. I just learned not to make any plans until after 3 every day."
Judy relies heavily on Dr. Dumbuya's survivorship program, especially the exercise class which runs for an hour on Saturdays. Beforehand, she gives them nutritional information and discusses the adverse effects of weight and obesity on cancer and possible recurrence. Judy also attended a program for survivors at the YMCA that Dr. Dumbuya connected her to. "She would encourage me to get involved in all this stuff, and I did. Whatever she tells me to I tried to do. That was a 16-week course at the Y, and we had a personal trainer for everyone for 12 weeks, twice a week. And then we had a six-month membership at the Y."
Previously, Judy was taking medications for a heart condition. Thanks to the program, she no longer needs it because the exercise has strengthened her heart. Even more, the program has helped her manage her arthritis and kidney disease better.
Judy's advice is for people to really listen to their doctors, and she involves them in her survivorship care. "I've given every one of my doctors a copy of [the SCP] and it has helped. Everyone that I showed it to said it was a great idea. I can't begin to tell you how it's helped me."
Judy leans on her faith in God and her husband, who is a survivor of bladder cancer, to keep moving forward. She gives back through the sewing ministry at her church. They have made 4,000 heart-shaped pillows for breast cancer patients and over 3,700 masks. They are also in the process of making scrub hats for nurses.
Issues and Importance of Survivorship
With the number of survivors growing each year, survivorship's importance will grow along with it. Dr. Dumbuya has seen participation grow since starting the program. "A lot of them are trying to lose weight. A lot of them are doing their best to exercise daily. Some of them are participating in seminars for survivorship programs. A lot of people ask questions about what they're supposed to do after cancer treatment."
However, not everyone goes to their survivorship appointment. "They just don't look at it as something they need. Some of them are thinking, 'Okay, I already know what to do. I don't need to see anybody else for that. I think I know what I'm doing. Or my oncologist will talk to me about that, so I don't need to come.'"
"I would encourage everyone to participate in cancer survivorship programs wherever you are, whatever you've been diagnosed with. Go talk to your oncologists, your nurse practitioner about the program and make sure you get a care plan."
source
https://www.programage.com/news/The_Rise_the_Cancer_Survivorship_Movement_1607560222010999.html