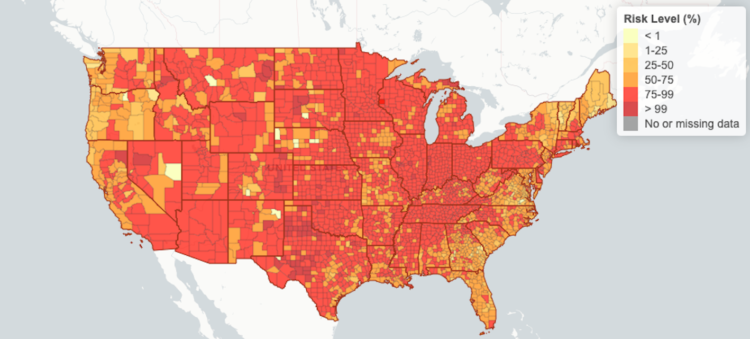 We know any time we're in contact with people outside our household we risk exposure to COVID-19 (and sometimes within our household). But what's the risk of gathering with 10 people really? Or even 50 people? A map created by researchers at Georgia Institute of Technology, Stanford University and other labs lets you calculate just that.
The "COVID-19 Event Risk Assessment Planning Tool" is an interactive map you can search by county. A slider on the left-hand side of the map lets you set the size of a gathering — anywhere from 10 to 5,000 people. As you change the gathering size, the map will calculate the risk you'll be exposed to at least one person who tested positive if you attend an event.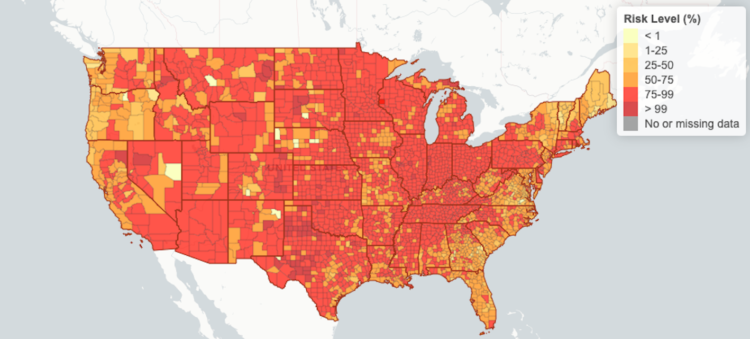 It's important to note that the map can't estimate your risk of actually getting COVID-19. Exposure, however, is one important way to understand your likelihood of getting the coronavirus. The disease is most often spread through airborne droplets or particles released into the air even just by talking. The more people you're in contact with who have COVID-19, the more likely you are to also get sick.
Evidence suggests the incubation period for COVID-19 is between two and 14 days but you're contagious 24 to 72 hours before you show symptoms. That's why social distancing and quarantine continue to be critical tools to slow the virus — you can spread the disease without knowing it. COVID-19 is also very contagious, especially as cases skyrocket across the U.S.
If you think you have been exposed to COVID-19, talk to your doctor. You should consider self-quarantine for 14 days to reduce potential exposure to others, even if you feel fine. Get tested if you have the option, and keep in mind COVID-19 tests are likely most accurate between about five to six days after exposure.
So before you head to a gathering of people outside your household, even a small one, check out this map to better understand your risk for getting sick or spreading COVID-19. Let us know what you find in the comments.
source
https://www.programage.com/news/Use_This_Map_to_Calculate_the_COVID-19_Risk_of_Your_Next_Gathering_1607992212481012.html