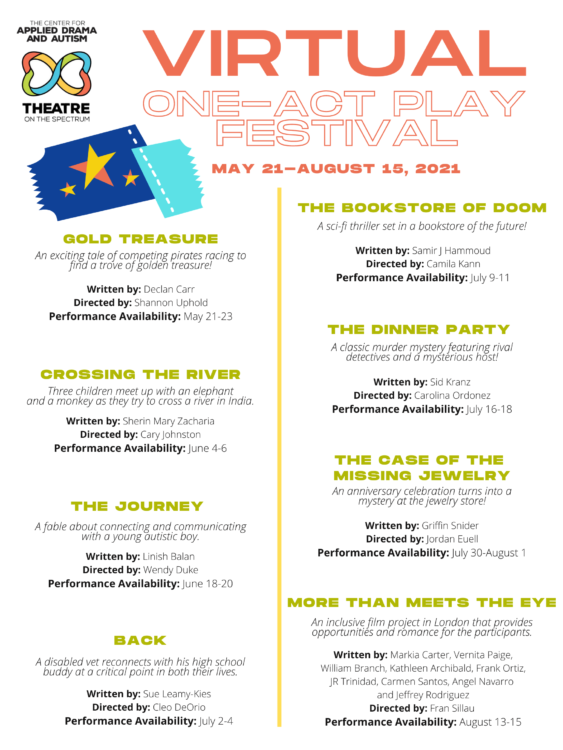 Last summer, after switching to an entirely digital platform, the Center for Applied Drama and Autism (CADA) solicited original, one-act scripts from around the world. Within a matter of weeks, CADA received eight excellent 10-20 minute plays from playwrights on the spectrum, with physical or developmental disabilities, or who are intimately connected with the disabled community. These playwrights, along with the directors and nearly 50 actors tasked with bringing their words to life, hail from India, New York, Texas, and even here in Akron. The plays will now be presented virtually all summer, each for a weekend of unlimited streaming and a talk-back with the cast and crew. CADA is committed to making its productions as accessible as possible, and will be including ASL interpretation, closed-captioning, and audio descriptions.
The next play is "The Journey," available June 18-20, written by Linish Balan, featuring original music composed and performed by Dred Scott, and directed by Wendy Duke. Linish Balan is a 38-year-old man with Asperger's syndrome living in India. He has been practicing theater from his earliest school days and currently works as a special educator, practicing theater with individuals with Autism. Wendy Duke is the former drama teacher at Miller South School for the Arts in Akron, and the co-founder of CADA. She has a B.A. and M.A. in Theatre Arts from the University of Akron and is currently working on a book called Applied Drama for Autism. Wendy says, "It was such a joy to return to the role of director and work with this amazing cast on a play that demonstrates how creative thinking can overcome communication challenges in autism. We often talk of 'sensory issues' when trying to connect with autistic people, yet in this play, written by a person with autism, we see how the senses can become the means of connection."
Buy tickets to this or any of the other One-Act Festival Plays on Eventbrite. Tickets are $1 with the option to donate more or become a sponsor. The highest sponsorship includes an original commercial written and performed by Theatre on the Spectrum members to be aired during the run of the festival.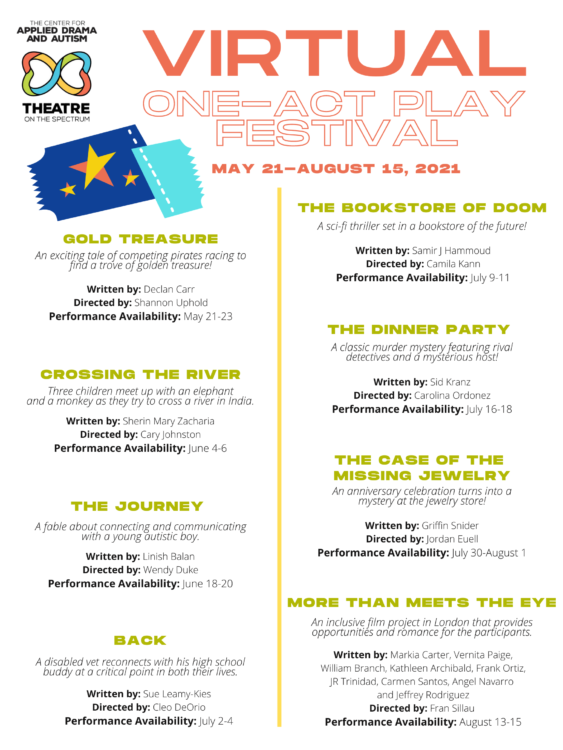 source
https://www.programage.com/news/This_Theatre_Festival_Features_Playwrights_and_Performers_on_the_Autism_Spectrum_1624069839475866.html